Dennis Dillon RV Boat Powersports Super Sale in Boise, Idaho
Welcome to the annual Dennis Dillon Super Sale event! You'll have the opportunity to purchase a thousand RVs, boats, and powersports at liquidation prices. Every year we host this sale event at the start of the new year, and it's a great way to start things off with great prices for new vehicles on sale. We'll have food trucks available so you can chow down while you shop for a new toy to complete your outdoors lifestyle. We grew up with the same appreciation and passion for the road less-traveled as you, and we're honored to help you save big bucks on your next RV, boat, or powersport.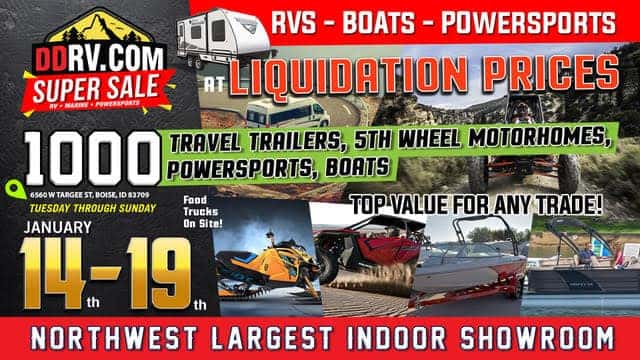 We'll have so much inventory for you to choose from and lots of professional staff with expert specialty knowledge on the units you'll be browsing. This RV, boat, and power sports sale happens only once a year, so take full advantage. In fact, a good portion of our team has been with us since our store first opened its doors many years ago.
You'll be able to combine great deals and perhaps upgrade your entire portfolio of RVs and powersports in one go. When you shop with us, you're working with a local business, folks who have made a life for themselves here in Boise, as opposed to some faceless corporate entity. For that reason, you can count on being treated like our neighbors, not just customers.
We'll make sure you're happy with your purchase and come on back for service to keep your new toys in tip top shape. You can count on a relationship that will last well after you head home with your exciting new purchase. We pride ourselves on our ability to offer ongoing service and advice as the years go by, so you'll always be able to get the most out of your boat or RV. Don't forget to share this event on Facebook with friends and the fam bam!